Judges Announced for Next Stage of the AI4Resilience Challenge
The AI4Resilience Challenge is well underway! Over the past two months, Challenge Participants have attended sprint sessions to refine their concepts and joined Open Learning highlighting the humanitarian and resilience aspects of the Challenge.
GKI, with our panel of judges announced below, will review these refined concept notes throughout November. Chosen solutions will be invited to continue as Challenge Finalists. Support during the design stage will entail further design resources, mentorship, feedback, match-making sessions, and seed funding. You can find a summary of the Challenge process on our program website.
If you are interested in following along with our Challenge, join our LinkedIn Group. If you are interested in contributing to the Challenge and the solutions as a future judge, mentor, partner, or co-sponsor, please reach out to ai4resilience_info@gkinitiative.org.
Finally, a warm thank you to our next panel of judges (listed in alphabetical order by last name) for the next stage of the AI4Resilience Challenge.
Carl Adams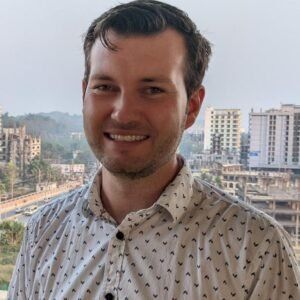 Carl Adams works for the Inter-Sector Coordination Group (ISCG) in Cox's Bazar, Bangladesh as a policy advisor for the Rohingya response. He responded to various crises in the Asia-Pacific region including the Nepal earthquakes, Sulawesi tsunami (Indonesia), the Pacific Islands, and Rohingya refugee response. He has held various posts including Country Director with humanitarian NGO Medair, International Programmes Director with Tearfund New Zealand, and advisor in the UN Development Programme (UNDP). Carl has master's degrees in International Law and Development Studies. He is interested in south-south collaboration and community-driven initiatives.
Ayeleen Ajanee
Ayeleen leads Acumen Academy in Bangladesh. Prior to this, Ayeleen was a Director at Bangladesh Youth Leadership Center (BYLC), where she worked to build connections among youth from diverse backgrounds, and equip them with leadership skills. Prior to BYLC, Ayeleen worked at Friendship, a nonprofit supporting isolated, marginalized communities living in extreme poverty. She started her career working with Unilever. Ayeleen was raised in Karachi and is currently living in Dhaka with her husband, Amyn, and her children Amar and Ayza. She loves to travel, and enjoys learning and reading about the different cultures. She has an avid interest in exploring nature – be it scuba diving, mountaineering, or cycling a rickshaw for 400 km across Bangladesh to raise awareness about tiger conservation. Ayeleen holds a Master of Business Administration from the Indian School of Business, a Master of Science in Social Policy and Development from the London School of Economics, and a Bachelor of Science in Mechanical Engineering from Southern Methodist University. Ayeleen is an Acumen Fellow.
Kerry Breen
Kerry Breen is a senior investment professional with significant experience in frontier market investing and a track-record in growth and sustainability strategy development. She is a partner at SBK Tech Ventures, the most active VC investment company focused on Bangladesh, where she oversees investment activities and investor engagement. She has advised numerous start-ups in Bangladesh on strategy and fundraising in areas such as fintech, logistics, and healthcare. Previously, she led the investment team at Brummer & Partners' Frontier Fund, the only Bangladesh-focused private equity fund, for seven years, deploying growth capital across a range of industries and monitoring a portfolio of more than USD 100 million in investments. She also managed the Fund's activities related to environmental issues and social compliance. Kerry was previously Strategy Director at PwC where she led the innovation and growth agenda working with the global management team, driving innovation activities and developing a sustainability strategy implemented by the global PwC network. Prior experience also includes investment in the technology space in Europe for Japanese telecommunications company NTT. Ms. Breen holds degrees from London Business School (MBA), the Johns Hopkins University School of Advanced International Studies(MA in International Relations) and the University of Texas at Austin (BA in Economics).
Rahul Chandran
Rahul is the VP for environmental, social, and governance policy at Export Development Canada. Prior to this, he was the CEO of CARE Impact Partners, an ESG advisory firm supporting global firms in achieving their sustainability and social impact goals, working with Target, WalMart, Mars, McCormick and many others. Before this, he led a team integrating environmental and social considerations into policy processes for Portugal; was the Executive Director of the Global Alliance for Humanitarian Innovation, and spent a number of years leading policy efforts around sustainability and international development at the United Nations. He was the Deputy Director of the Center on International Cooperation, the Director of the Afghanistan Reconstruction Program, and served as an advisor to the United Nations, the United Nations Foundation, the OECD, the Clinton Global Initiative and numerous other institutions, and previously founded and worked for a number of technology start-ups.
Mubin S Khan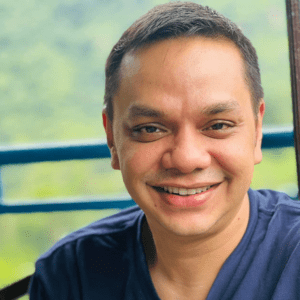 Mubin S Khan is a veteran journalist, currently the Deputy Editor of The Business Standard, Bangladesh's leading daily business newspaper. He previously held senior newsroom positions at Dhaka Tribune and New Age. His journalistic work has been published both locally and internationally, including the Guardian and The Times. An alum of the J-School at Columbia University, Mubin has also taught business journalism at University of Liberal Arts and Brac University.
Satish Viswanathan
Satish is a technologist, delivery professional and operations leader with nearly two decades of experience in the tech industry based in India. As the Head of Social Impact, he focuses on Thoughtworks' Social Change lens and seek to harness our talents as technologists to amplify positive social change. He works on identifying opportunities in the areas of responsible technology and technology for good and global health.
Satish has also been fortunate to have played a part in several social impact projects during his time at Thoughtworks. He was part of a team that built RapidFTR, an innovative mobile tool to help aid workers reunite children with their families after disasters and helped pilot this in refugee camps in Uganda. He was a core team member of the People's Archive of Rural India (PARI), a living journal and an archive of rural India and was involved in creating the platform, defining the digital strategy and advising on leveraging the use of open source volunteers and community to make the platform community-owned and socially maintained. He was also an innovation advisor for the Start Network's DEPP Labs programme, a radical new way of community-led innovation for disaster risk reduction.