Identifying the Next $100 Million Idea for Social Impact
Imagine that moment when you're planning a financial investment. Investing in a high-potential offering, when it is still in early days, allows you to maximize the return on your investment.
Now consider the pervasive challenges faced by the poor and vulnerable communities in the world. How might investors in solutions to those challenges identify investments that can yield high social returns? This is where the Horizon Scanning work of the Global Knowledge Initiative (GKI) team offers exciting insights.
The GKI team is collaborating closely with The Rockefeller Foundation to pilot the design of The Rockefeller Foundation's Scanning function to help identify pressing problems facing our economies, ecosystems, health systems, and communities that are ripe for engagement and innovation. The Rockefeller Foundation strives to catalyze and scale transformative innovations, create unlikely partnerships that span sectors, and take risks others cannot. Horizon Scanning builds on an established Strategic Foresight method and looks for weak signals indicating the emergence of new patterns of activity, new solutions, and new frameworks of understanding. These can point to high-leverage opportunities for social impact.
Workshops run by skilled facilitators employ various prompts to guide participants through the scanning process to leverage their expertise, experience, imagination, and creativity to identify these weak signals. The Annual Asia Venture Philanthropy Network (AVPN) conference in Hong Kong presented an excellent opportunity to host a scanning convening. On May 27, more than 60 leaders in global philanthropy, impact investing, and social innovation joined GKI and The Rockefeller Foundation to identify emerging trends and weak signals of change on a range of issues of interest to the Foundation.
The Outcomes?
Participants identified 297 early signals of change on the twelve problem spaces listed below:
Food waste and post-harvest food loss
Weak public health systems in the face of disease outbreaks
Inefficient, expensive, or polluting transit systems
Insufficient municipal service delivery for the poorest
Weak economic systems after health crises
Under-addressed mental health challenges
Warming and acidifying oceans
Imprecise measurement of the true value of ecosystems
Poor waste management
Exclusion of women in the workplace
Affordable housing shortages
Environmental and social impacts of the extractives sector
Through facilitated dialogues and using convergence techniques to bring together a range of myriad signals, the workshop participants identified three problem spaces as exhibiting high momentum for change, suggesting high return on potential intervention and investment:
Under-addressed mental health challenges: Increased emphasis on holistic wellness on the global diversity and inclusion agenda is creating momentum for action in this problem space. Participants recognized instances of pre-emptive action to address mental health challenges, especially with a focus on provision of service to low-income and vulnerable populations.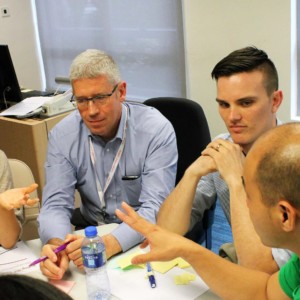 2. Exclusion of women in the workplace: We may have a long way to go to realize a future where gender inequities are artifacts of the past, but change is emerging. Evidence signaling this change? Public and private sector action in providing maternity and paternity leave, corporate quotas on women executives, nurseries in offices, and a trend toward more flexible work hours. Emerging research highlights the economic impact of diversity and increased presence of women in the workforce on businesses.
Food waste and post-harvest loss: There is a fast growing recognition of the high returns to investment by taking action in this problem space, with the opportunity to reduce post-harvest loss by 30-50% globally. Substantial discussion at the workshop focused on increased application of ICT and GIS mapping technologies to bring efficiency, accountability, and profitability to different supply chains. Participants also noted new local and "ugly" food initiatives resulting in shorter supply chains and food being consumed that might otherwise be lost.
These insights will be further researched and studied to explore future areas of action. More broadly, the GKI team continues to develop its Horizon Scanning methodology and aspires to share it more widely with the social sector.
Contributed by Senior Program Officer Manmeet Mehta