Systems Innovation: An Interactive Learning Journey
GKI's Systems Innovation program is designed for local insights and leadership to emerge over time all while building new capacities and networks for solution acceleration. Our programs pull together systems-thinking and innovation thinking in hope of activating a network to strengthen the ecosystem for local innovation, incentivizing organizations and intermediaries to design and deploy solutions and build cross-sector connections and collaborations that lead to systems-level changes.
The Systems
Worldview
Our world is not predictable or linear, it is emergent, interconnected, and complex. Whether it's an organizational system, a government system, the food system, or our planetary system, systems shape our lives in ways we might not even realize. We also shape them. Our decisions can ensure that the systems we are part of are more resilient and able to address the complex challenges embedded within them, but first, we must understand what systems are, how they operate, and where the opportunities are to change them for the better.
The Innovation
Worldview
Innovation Is not only novel ideas or concepts. It is also a disruptive force for change in the world. It is a deliberate process of experimentation, learning, and (re) design; all in an effort to unlock new value and improved outcomes for people, society, and our planet. It takes a particular mindset and skill set to effectively translate ideas into innovation, and achieve a level of impact that can disrupt the status quo. With the right opportunities, incentives, and support structures, we can catalyze and accelerate the innovations we need to disrupt systems that no longer serve us.
The Systems Innovation Hybrid
Systems need innovations to build momentum for change. Innovations need to be strategically placed within systems to be locally relevant, more transformative, and better positioned for scale. Both need the vision, creativity, and energy of people to build momentum for change.
Welcome to the Interactive Learning Journey!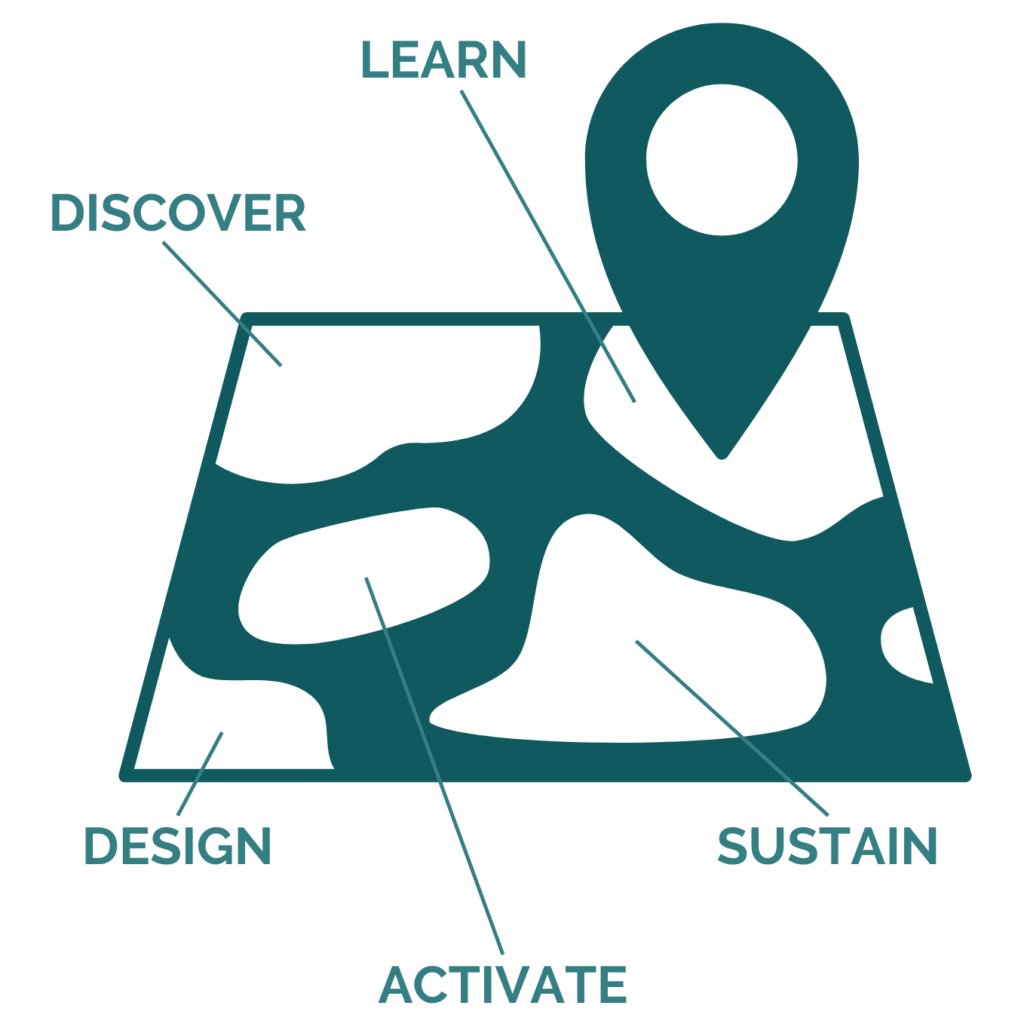 Our Systems Innovation methodology was recently deployed under the Accelerating Innovation for Resilience (AI4Resilience) banner, in a pilot program implemented in partnership with Spring Activator with support from USAID's Bureau for Humanitarian Assistance to address the needs of the humanitarian innovation ecosystem in Bangladesh.

Experience this unique interactive journey–discovering alongside our learnings, seeing examples of what these tools looked like in practice in a local context, and remixing for future deployments to address the needs of any complex system and diverse set of challenges around the world. Imagine the potential for impact when you can focus the insights, ingenuity and action of the innovation ecosystem in your community towards solving the most pressing problems of your community. Grab your packs and get ready to learn! Start with Phase 1: Discover!

Systems Innovation: An Interactive Learning Journey was created by Global Knowledge Initiative for the Accelerating Innovation for Resilience pilot program. The program was supported by USAID's Bureau of Humanitarian Assistance and done in partnership with Spring Activator. The site, its content, and its attachments are all licensed under Attribution 4.0 International license (CC BY 4.0).